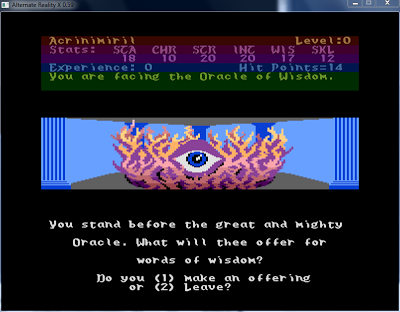 I've been working away on adding the Dungeon Oracle to ARX so that we can sign up for all those Dungeon quests but while I was sifting through a capture of the binary for this part of the game I noticed something that interested me as someone with a long time interest in game design. Whilst many games of the era (and most recent games too!) are happy to have a single response or set of outcomes from the gameplay The Dungeon designers always added two, three or more varied responses to each of the modules. It's a simple thing to do but so few designers or programmers bother to do it. I think this shows attention to detail that is so often overlooked or not considered. They didn't take the easy route or quickest options to finish things but added extras to the game which is probably why we still play these two games.
Did you know that if you upset the Oracle repeatedly he will tell you not to come back for a month? I never knew that and if you return before the month is up then be prepared for trouble.
One of the other things I've been looking at is the design of the City shops. Where most games would provide you with a stock selection of clothing, in the City we have four values for each possible item – value, material, colour and type – giving us literally hundreds of possible clothing items some of which we will never see within a game. We have a similar feature in the shape of the Weapons Enchantress who can modify numerous attributes of your weapons (based on your choice) allowing us to potentially create some very interesting custom weapons of our own if we have sufficient patience (and precious stones).
For me this means I need to alter my object code for ARX as it currently doesn't allow for the flexibility and custom nature of items such as procedurally generated clothing from the City (the D & P apparel items are static) or the custom weapons of the Dungeon. I overlooked the complexity of attention to detail in The City and The Dungeon when I first set up the object code and took a simpler route like most games do. Once I've done this and I want to do it soon then I'll be able to add City shops, the Dwarven Smithy and the Weapon Enchantress to ARX.
Despite playing this game on and off for over 25 years I never realised those features and details were in there. This is one of the key things I love about Alternate Reality – I'm still discovering things about it 25 years after it was created – how many other games – past or present could we say that about.