I feel I'm long overdue on a blog update for CRPG Dev, Alternate Reality X and Stone of the Citadel as there have been a few important changes and decisions.
The biggest change is that I have now switched to Unity 3D for developing both Alternate Reality X and Stone of the Citadel. For those unfamiliar with Unity it is a game development system which allows you to create 3D (and more recently 2D) games across multiple platforms such as Windows, Mac OS X and mobile devices. It's very popular, powerful but relatively easy to use, has a big online community offering help and advice and has a handy asset store where you can access for free or buy models and code for use in your games. The version I'm using is free, though there is a commercial version and add ons for higher end users or teams.
I feel I've gone as far as I can with my current C++ and SFML based code. There are a lot of bugs to fix and some serious architectural problems behind the scenes relating to how objects are represented. A lot of my code will be relatively straightforward to move over to Unity though. SFML's use of OpenGL has been a constant difficulty for some players as they have struggled to get compliant OpenGL drivers on their systems – Windows & Mac OS X. Unity builds in my experience just seem to work. On reflection the work to port my current ARX to Mac OS X last month was a lot more painful and time consuming that I believe it should have been. Unity allows you to build for Mac with a few extra mouse clicks in the "Build Settings" 🙂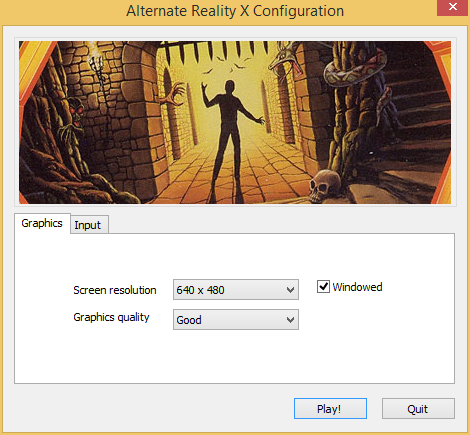 Configuration screen for the new Alternate Reality X
I've started work on the introductory sequence for Alternate Reality using the free version of Unity and you can check out my work so far using the link below and the Unity Web Player:
www.crpgdev.com/unity/ARXWeb.html
I've converted the old custom map format to a well known, common format and Patrick has kindly provided me with some Unity code / framework that converts the map data into a usable Unity scene. There are some omissions in the scene just now but these should be fairly straightforward to sort out. Lots of work to do with the map(s) from here but this is a really big help in getting started. Thanks again to Patrick for this.
My work in progress for the intro using the Web Player
I've also posted several pieces of my design for my Stone of the Citadel party based CRPG. These are available on the Patreon site but I'm going to start putting more of them onto this blog as well. So far I've published a number of the character background descriptions. In the real game these will be partially random and you'll be able to generate a new background (or write your own) if you don't like the initial ones your characters receive. In addition I've published some of the lore and locations of interest to set the scene. SOTC will use a different map model to ARX but it will be able to use all the nice features of Unity to make an attractive game world. It will begin with a small map initially to give people a taster of game play.
Lots of people have suggested I should do a Kickstarter for my games but I don't think it would be the right sort of platform for me given my personal circumstances. I feel Patreon provides a very good alternative where you can build up an active, interactive community around multiple projects and interests (games in my case) and provide support and feedback in a more manageable way to suit people's budget. You don't have to pledge any money to support CRPG Dev on Patreon if you don't want to or aren't able to so it would still be great to hear from you there. The CRPG Dev Patreon site is here:
Hopefully you'll check out the page and might consider becoming a Patron. You can also provide support through one off Paypal payments if you prefer (linked from
https://crpgdev.com/
). It really is greatly appreciated and makes a big difference. If you've already supported CRPG Dev in the past then a big thank you.
I've also signed up for Twitter so I'll probably be making use of that shortly as an alternative way to post updates and other news. The ARX forums have been updated recently and look a lot nicer to use but I haven't had a chance to dig into these yet and customise them.